When you're ready to sell your home, the first thing that you have to determine is what price you will sell it at. For many a home seller, this is an arbitrary number that they arrive at depending on what they feel their home is worth, and this is a problem. Why? Because as sellers, our inherent tendency is to place a premium on things we own, especially when we're in the market to sell them, be it a selling property, a watch or pre-owned cycle. As a result, you end up locking horns with prospective buyers who're on the hunt for a bargain. In fact, this tussle is why many home sales don't go through. You can read all about it here.
So what's the best way of ensuring that you can sell your home quickly, without feeling short-changed? Pricing it right. This means affixing a price that is based on the market value of your home, and not what you think you ought to get.
If you're wondering how you can do this, the answer is easy. Choose Zapkey. When you decide to sell your home with us, the first thing we do is give you a property valuation or home valuation report. We study similar sale transactions in your building, society and neighbourhood to arrive at a fair price for your home. We do the leg work so that you don't have to.
If you're wondering what information our property valuation report comprises, keep reading.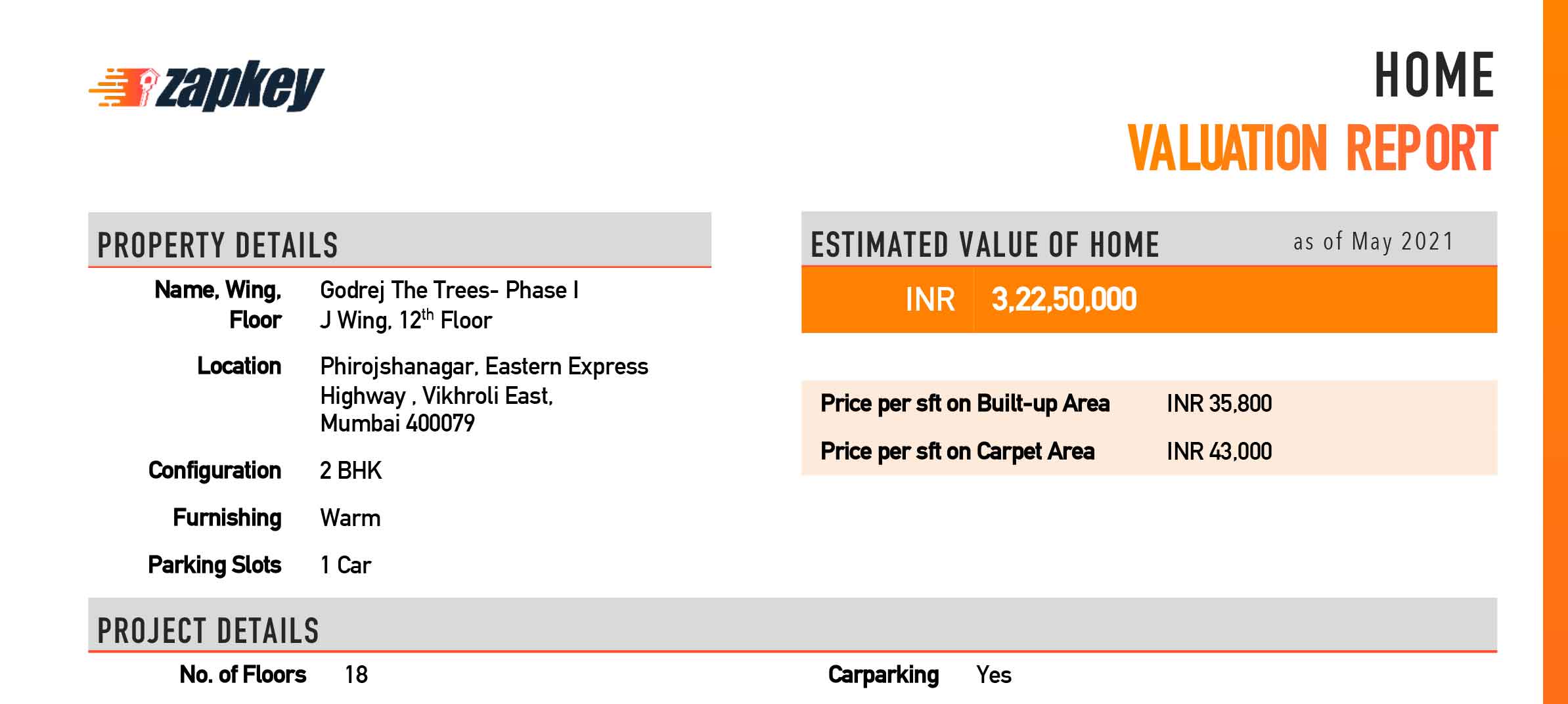 Property and project details
First up, we list all basic details pertaining to your home. This includes the name of the project and the address. We also mention the configuration of the property for sale, and whether any car parking slots are included. We also give an overview of the project—how old it is, its completion status, year of construction, amenities on offer, etc.
Estimated value of your home
This is what you came for! Based on our analysis, we present you with a property value estimate that's rooted in real data. For good measure, we also break it down into price per sft. for built-up area and price per sft. for carpet area.
Our property valuation report also comprises information on the carpet area and built-up area, project price range (depending on the floor rise and view) and the government's ready reckoner rate. If you're only looking to rent, and not sell, we also tell you what's a fair rent to expect.
Best of all, you don't have to take our word for it. At Zapkey we're all about transparency, so our property valuation report comprises recent transactions in your neighbourhood that helped us arrive at a competitive price for you. Likewise, we also give you a preview of similar listings online and how they have been priced.
So, what are you waiting for? If you're considering putting up your home for sale, make sure your first stop is Zapkey. We provide you with a property valuation report for free, so that you can make a smart, informed sale decision. Ready to get started? Simply click here.
To learn more about how we make selling a home as simple as can be, check our website.